All of our puppies have sold from  Cross D's Mayhem x Twin Star's Cinch 2017 Litter!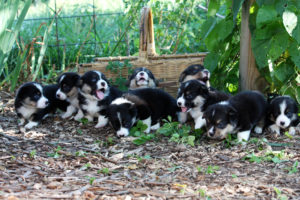 Congratulations to all the families who purchased a Cross D puppy. We look forward to seeing how they grow and encourage our puppy buyers to keep in touch!
At this time we are hopefully planning to have our next litter sometime in summer 2018 from Cross D's Mayhem x Cross D's Little Rascal.
If you would like to be the first to hear about a future litter you may contact us and be added to a waiting list.
At this time we do not accept deposits on puppies until after they are born and you pick out a particular one. Being on the waiting list does not guarantee you a puppy, but we will notify you as soon as we have some available and you can have first dibs before we place any general announcements.