Cross D's Mayhem (May May)
We could not ask for a better mama dog than May May. She is a Black Headed Tri Color and her endearingly sweet and sassy personality  has found her a deeply rooted spot in the midst of our family. She loves everyone she meets and is ever loving and patient with our children. And with her own children! There is nothing more endearing than watching her carefully nurturing and playing with her pups. Always up for helping out around the farm — she shows a great herding instinct as she assists us in making sure the assorted cows, horses and poultry are in their proper spots — and she is equally happy to lounge around the house. Wherever we are you will find May May close by – she is a people lover. May May has tested DM At Risk, but with her other excellent characteristics we believe she has a lot to contribute to our breeding program.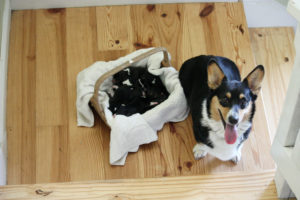 Cross D's Little Rascal (Rascal)
Our recently purchased stud-dog-hopeful, Rascal has quickly found his way into everyone's hearts. His laid-back, cuddly but playful personality makes him a real charmer. We can't wait to see how he matures and what great characteristics he may offer. Rascal is a Red Headed Tri Color and is DM Clear and vWD clear.
Rascal's name was inspired by a section in Mary Gay Sargent's book "The Complete Pembroke Welsh Corgi",  in which she states:
"…In the South of Wales, a common endearment, Y Corgi Bach, means 'you little rascal'. Knowing how the Corgi delights in being a lovable, little rascal, it is not surprising that 'corgi' and 'rascal' came to be colloquial synonyms…"