We take pride in the fact that our puppies are true family dogs, born and raised in our home. We believe this gives them the best possible socialization and prepares them to happily transition into their new homes when they leave at 8 weeks old.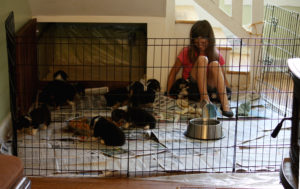 To ensure that our puppies are able to be get the best possible care we limit how many breeding dogs and litters that we have. This allows our breeding dogs to be a cherished part of the family and the puppies get all of the daily attention they need to thrive.
Puppies receive daily outside play time around the farm as soon as they are old enough. This not only gives them good exercise, it lays the foundation for learning to come when called, and gives them exposure to our menagerie of other farm animals! This includes cats, chickens, guineas, geese, cows, horses and other dogs.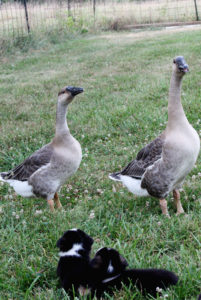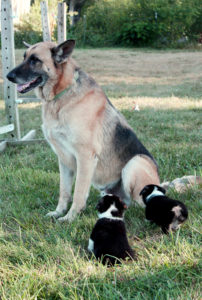 They also get plenty of play time with their mom, even after weaning, which is a crucial part of their training and socialization.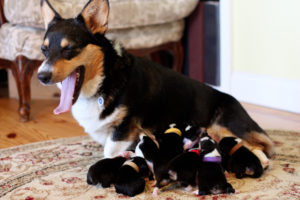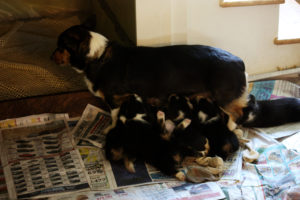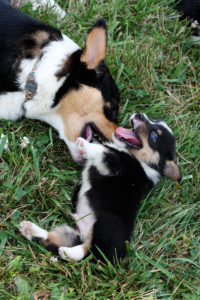 Our six children help us give them love every day and each puppy is used to being handled and held and having nails trimmed. Being in our home they are well accustomed to being around children running and playing, music and all the other noises and activities in a busy household! These puppies love people.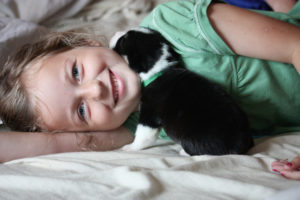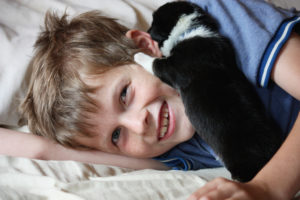 When our puppies are born their tails are docked, dewclaws removed and they are started on a de-worming schedule at 2 weeks (repeated at 4, 6 & 8 weeks). At 6 weeks old they receive a veterinarian health check and their first round of vaccinations (DA2PPv — which covers canine distemper, hepatitis (canine adenovirus-2 and -1), parvovirus, and parainfluenza). When you pick up your puppies from us we will include paperwork showing what vaccinations they have received so you can take it to your veterinarian. Below is a sample schedule (from AKC) of what vaccinations your puppies will need after you bring them home:
| | | |
| --- | --- | --- |
| Puppy's Age | Recommended Vaccinations | Optional Vaccinations |
| 6 – 8 weeks | Distemper, measles, parainfluenza | Bordetella |
| 10 – 12 weeks | DHPP (vaccines for distemper, adenovirus [hepatitis], parainfluenza, and parvovirus) | Coronavirus, Leptospirosis, Bordetella, Lyme disease |
| 12 – 24 weeks | Rabies | none |
| 14 – 16 weeks | DHPP | Coronavirus, Lyme disease, Leptospirosis |
| 12 – 16 months | Rabies, DHPP | Coronavirus, Leptotspirosis, Bordetella, Lyme disease |
| Every 1 – 2 years | DHPP | Coronavirus, Leptotspirosis, Bordetella, Lyme disease |
| Every 1 – 3 years | Rabies (as required by law) | none |
Puppies who are shipped will also receive a veterinarian health certificate and an airport approved crate is included in the shipping cost of $350. We begin crate training with these puppies ahead of time so they are fully accustomed to it in time for travel. We typically use United Airlines, depending on which airport we will be shipping to, because they offer temperature controlled cargo holds.
All puppies are AKC registered and come with full registration papers (you will need to complete the registration process with a fee of $35). We do reserve the right to only provide limited registration if we believe certain puppies are obviously not breeding quality, for whatever reason, but if that occurs it will be noted plainly on the puppy ad.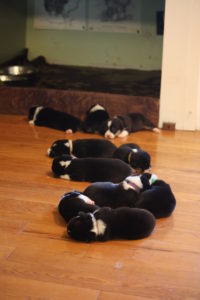 Puppies are also started on paper potty training and eating solids — we will send a sample of our puppy food home with them so that you may gradually transition them to your puppy food of choice, if desired.
If you have any other questions please feel free to contact us! We want to make sure you have all the information you need before you bring a new puppy home.